AdvEYE is an intelligent IoT device aimed at complete remote monitoring, providing solutions for last-mile connectivity. Energy management, fire safety, and security are three components that it integrates to streamline working operations. Modern smart sensors, smart meters, wireless gateways, and AI cameras all work together smoothly to ensure that there are no irregularities in the areas of energy, environment, safety, or security.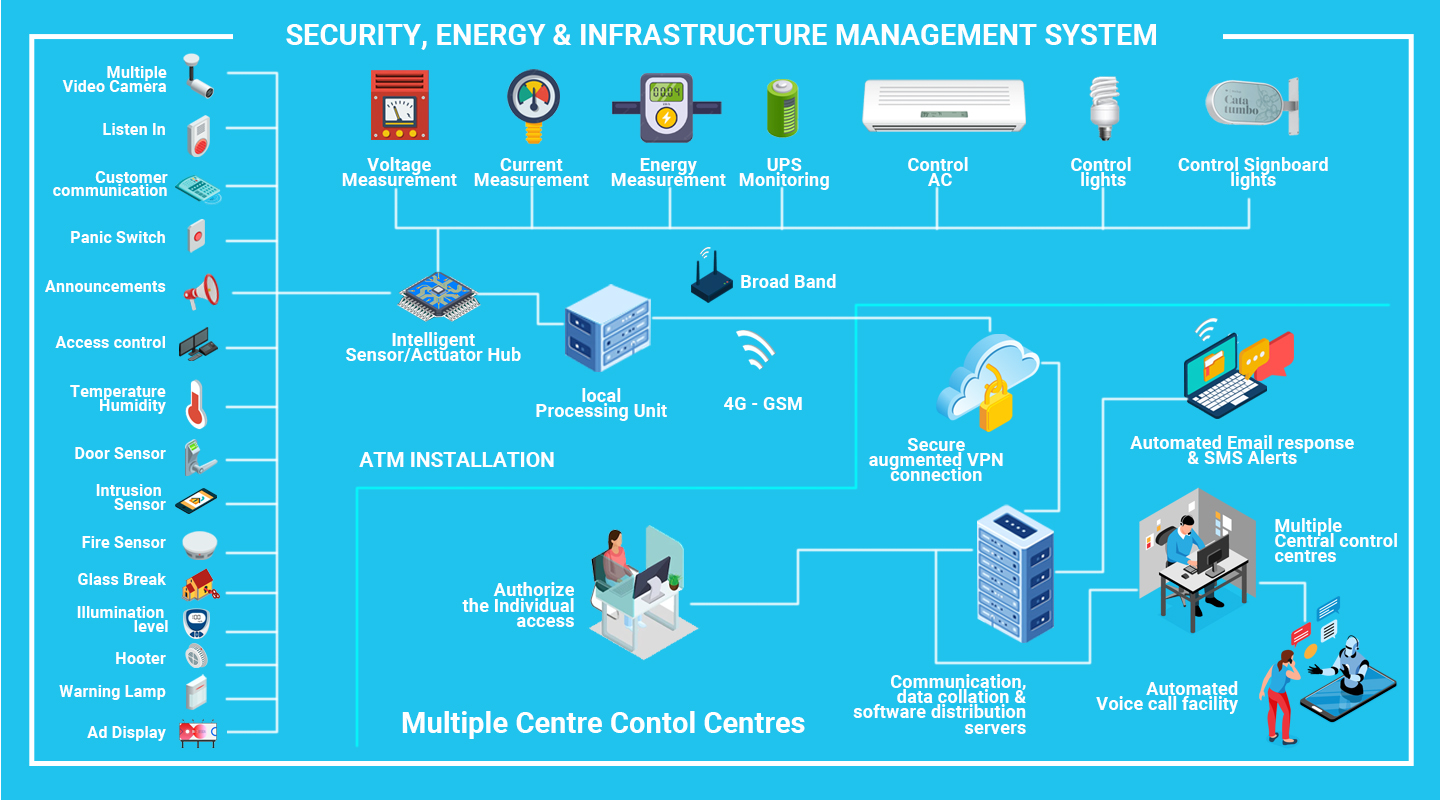 What can AdvEYE do for you?
Remotely authorize access to various personnel, applying an additional security layer on data access..
Detect fires, smoke, and various amount of gases to avoid unwanted hazards.
To find possible failure sites and prevent them in advance, using predictive insights.
Safeguard every location by ensuring 24x7 video and audio vigilance at each site.
Use artificially intelligent cameras to identify threats and take immediate action.
Play advertisements and infographics for additional engagement.
Conduct audio surveillance through inbuilt microphones, both automatically or manually, as per your preferences.
Save up your money with advanced and efficient energy management, designed to streamline operations.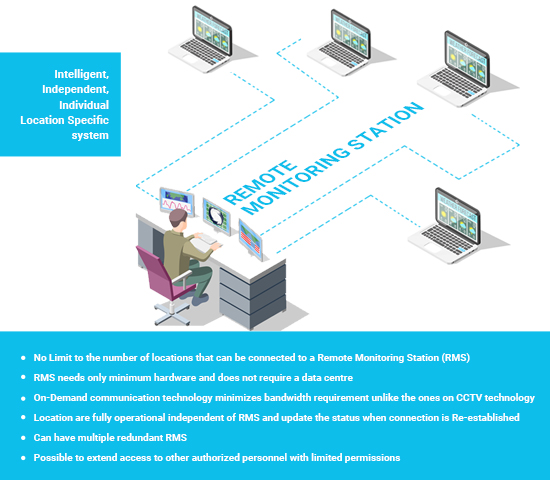 Intelligent Remote Monitoring and Control of Geographically Dispersed Systems (IRMAGS)
If you have assets that are distributed in various locations, then it gets severely hard to monitor them all and filter out the pain points. This is where our revolutionary IRMAGS technology comes out as your savior. It is specifically engineered and designed to monitor and control possibly hundreds of assets spread across multiple locations at the same time.
What can our IRMAGS do for you?
It can oversee and manage several assets scattered over various locations all at once.
Automatically access and interpret the data it is getting from various sensors, microphones, and video cameras and control every aspect without needing even a monitoring station.
It is capable of real-time device control and video and audio outputs in accordance with intricate, previously set rules that may be exclusive to a single site or a collection of locations.
Share data with remote monitoring stations, making it easier for you to identify problems.
AdvEye is suitable for remote monitoring and ensuring last-mile connectivity for locations like EV charging stations, traffic signal lights for remote calibration, ATM machines, bank branches, remote cell-tower site management, and so much more. For any place that requires remote management and incessant internet connectivity, AdvEYE can be your incredible partner.